Pomp&Clout is a studio that needs no introduction, because you've probably already seen their work, whether you're aware of it or not – maybe even used it yourself. It was founded in Brooklyn in 2009 by Owner and Director Ryan Staake and packed with a small enough team that we can list all the names without bloating this article: Creative Director Aaron Vinton, EPs Ryen Bartlett and Kevin Staake and Head of VFX & New Media, Pete Puskas (see, told you!) The group's goal since their inception has been to push both entertainment and tech to new creative heights. One look at their work shows the quintet is succeeding at exactly that.
It's pretty telling how forward-thinking P&C is when considering that their first plunge into Augmented Reality has resulted in the wildly popular "Horse Morph" filter on Snapchat. Racking up over 3.3 billion impressions (that's right, billions), it's no surprise the company has created several other face recognition filters for brands as well – Pringles, Pepperidge Farm and Coca-Cola, to name a few. And we'd be remiss to neglect mentioning "Wyclef Jean," the hilarious viral Young Thug music video that was infamously stitched together out of sheer desperation, due to the artist in question never showing up to any of the planned shoots.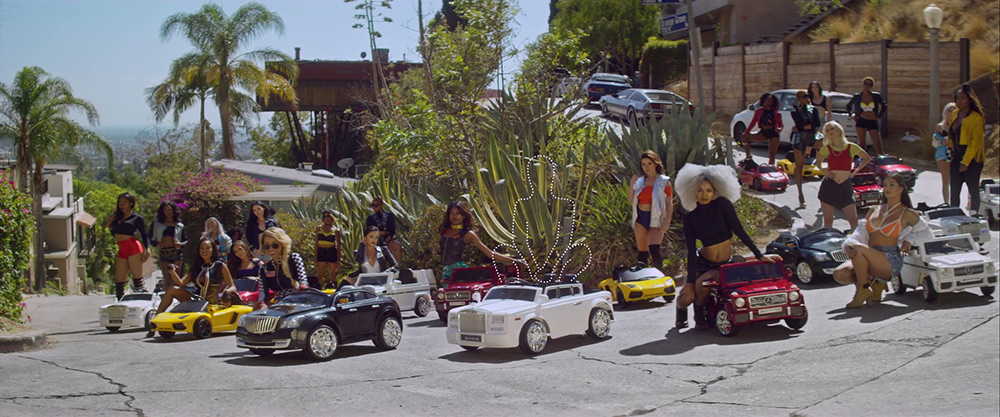 Simian reached out to the Pomp&Clouters to get a better sense of what drives them creatively, how they became the tech trailblazers they are today and where they see AI – as well as their own craft – heading in the future.
What brought Pomp&Clout together? Did any of your partners or leaders have any previous experience working together or within the industry?
Aaron Vinton (Creative Director): Ryan Staake and I first met studying graphic design at Carnegie Mellon. Our design background gave us a unique vantage point from which to see the video landscape. It helped define our early work in music videos, where a clear visual hook or technique anchored the video, such as the Diplo music video featuring pole dancers on an infinitely long pole. In the few years to follow, the core team of Pete Puskas (Head of VFX and New Media), Ryen Bartlett, and Kevin Staake (Executive Producers) coalesced, and we're all still together to this day.
The first thing that comes to anyone's mind when they hear "clout" is social influence, but Pomp&Clout's work is cutting-edge in a way that transcends snap filters, AI and AR. Tell me in your own words what Pomp&Clout is all about.
AV: Our use of "clout" predated the current digital parlance, but it is relevant in that we're interested in what clout affords you – namely, the freedom to take creative chances and have partners who trust in your vision.

How does Pomp&Clout perceive itself? What's the culture of this company really like and what do you often find yourself bidding against for projects?
AV: Though we're working predominantly in commercials now, I still see us as the scrappy crew crashing the production party. Having come up doing everything ourselves, we've got a broad base of experience and knowledge of production and post processes, which allows us to keep a clear vision in complex productions and maintain high quality. At the end of the day, though, I think the ideas and innovative techniques set us apart from other, often bigger competitors. Bold concepts executed precisely make for the most memorable content.
You've been around since 2009 - before most social media we use today - being a creative company that specializes in the latest tech and social campaigns, how did you manage to stand out in an era before the mediums you're best known for today?
AV: I think our intellectual curiosity has kept us in step with the times; we see new technologies as opportunities for creative expansion. If you can wed a concept to a novel production method, it creates a perfect synergy in which they reinforce each other and create a spark in the audience's imagination. In the past decade, we've made work with everything from thermal video, probe lenses, 360 video, deep fakes, and face filters to Unreal Engine and AI motion capture. We're always looking for new tech to play with.
Pomp&Clout is best known for its social media campaigns, but you've actually been in business since before Insta, Snap and TikTok even existed. What were you doing before to stay ahead of the curve – and where do you think Pomp&Clout would be today without those platforms?
AV: We'd still be here, just more well-read.
What work have you put together that you're the most proud of? Is there one project that defines Pomp&Clout above the rest?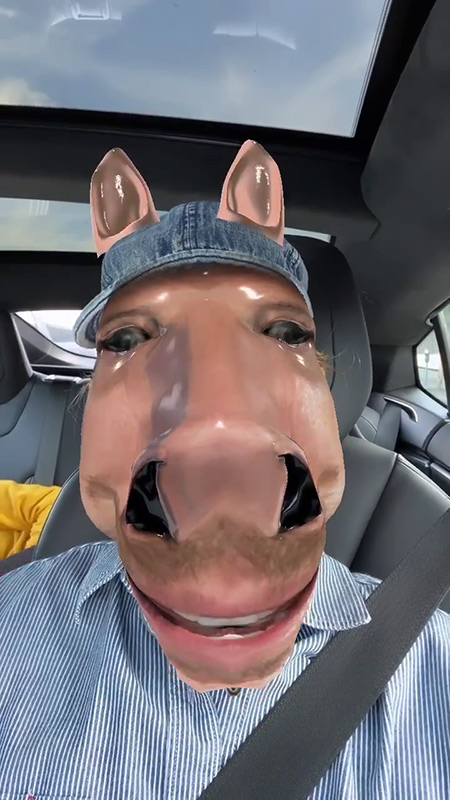 Ryan Staake (Owner, director): If I had to pick one, it would probably be the Young Thug - Wyclef Jean music video. That's been our most viral moment (with the Horse Morph face filter in close contention). The artist notoriously didn't show up to the shoot, and the music video became a meta-narrative of the project's demise. The result proved more popular than a "successful" shoot ever would have. It was a true lemons-to-lemonade moment that showcased our ingenuity, resourcefulness, and a healthy dose of irreverence.
You're a tightly knit group of creatives. Does the small size help Pomp&Clout stay ahead of the curve with constantly evolving tech?
AV: Look, I'd love to have a dozen people dedicated to churning out AI models in the backroom, but there really is value in having a nimble team and being able to bring in directors, creatives, or technical specialists per project. That cross-pollination is crucial.
There's been a lot of discourse regarding AI lately. Being a studio that's caught up with tech in a way that many aren't, what do you see in the future for AI?
AV: AI is nibbling away at video production from the ends and has irreversibly changed pre-production and post. That meat in the middle, the actual shoot, is even starting to see its borders encroached with generative video as well. The collapse of concept and creation is in progress. In the meantime, we hope to use the tools better than the next studio.
Pomp&Clout has been a Simian user for some time now. How does Simian help with your day-to-day workflow, delivering work to clients and reaching new prospects?
Ryen Bartlett (EP): Simian enables us to quickly craft curated work reels to show prospective clients and ultimately win business. This year we decided to do away with the roster model and work instead with independent creatives. This has allowed for more organic collaborations and for us to build teams catered to the creative. As a result, our network has expanded substantially, and Simian has enabled us to manage the wider body of work efficiently.
SHARE ARTICLE
MORE FROM THE SIMIAN BLOG