Rockin' the Ad World with Peligro Music's Greg Kuehn
Posted on Feb 7, 2020
When Greg Kuehn isn't busy writing music for commercials, promos, TV shows or films, he can sometimes be found on stage, surrounded by instruments and musicians, recreating his punk rock past. How many other people in the ad business can say the same thing?
Yes, it's not every day you run into a working rocker whose history with a cult band allows him the weekend thrill of rocking concert halls and clubs in the US and beyond, but that's the double life that Kuehn, Founder and Creative Director of L.A.'s Peligro Music and Sound, likes to lead. By day he's creating his unique brand of orchestral and modern underscores for campaigns for brands like Verizon (on the Super Bowl, no less), LG, Clif Bars, Audible, Ford, Amazon and many others.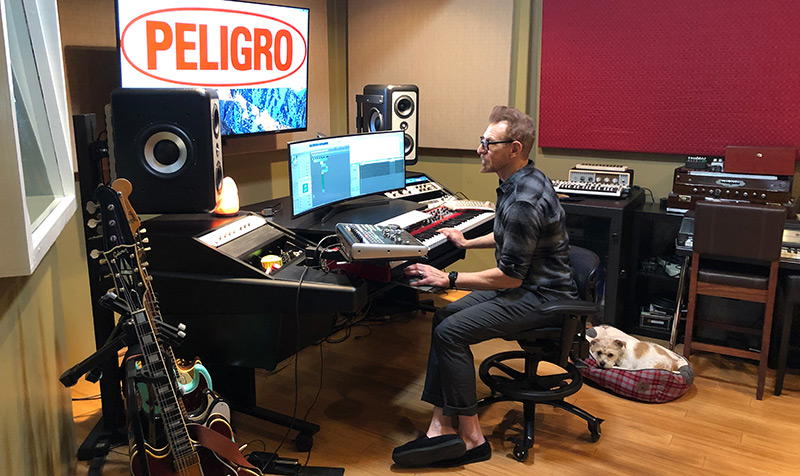 But every now and then, he packs up his keyboard and hits the road as a member of T.S.O.L. (True Sounds of Liberty), seminal West Coast punk band whose rabid fan base follows them everywhere. From festivals to concert tours, the band continues to share its unique frenzy with a multigenerational audience that bears no shortage of tattoos.
Despite T.S.O.L.'s punk roots, Kuehn's outlook on what he does at Peligro might owe something to Willie Nelson – specifically, the aging country crooner's "On the Road Again." "The life I love is making music with my friends," Nelson sings, and it's a line Kuehn paraphrases more than once in our conversations.
For example, he talks about how he loves working with people with whom he's built up trusting relationships. That's not to say he doesn't welcome new clients; he finds that experience just as stimulating. But Peligro has been built on repeat biz, and as he puts it, "I often work with people I like."
Peligro will be celebrating its 21st year this fall, and its history is fascinating. Kuehn was studying classical piano at Cal State Long Beach when he heard of a band looking for a keyboard player. That started his sojourn with T.S.O.L., and when the band made an appearance in Penelope Spheeris' 1984 cult hit "Suburbia," he met composer Alex Gibson – with whom he later scored the film "From Hollywood to Deadwood." It was Gibson who roped him into working on films for brands like L.A. Gear.
Yet Kuehn's touring days weren't quite over; he spent time on the road with Bob Dylan, as well as with The Church, Berlin and Ian Astbury, one of the founders of The Cult. But he also got into the music-for-picture world, working with such L.A. shops as Who Did That Music and DV8, where he cut his teeth in the business and gained both experience and confidence. Around the time he figured he couldn't tour forever, he decided to open his own shop, and Peligro was born.
The company is now a lean operation, and a family affair; Kuehn's wife Robin is its EP, and his sons, Elvis and Max, who like their old man are members of a renowned L.A. band (FIDLAR), have worked with him on many projects. Kuehn likes to point out that, after T.S.O.L. played Coachella with Max on drums, he's now one of only three artists who've played the venue with their offspring. The others were Roger Waters of Pink Floyd and Ice Cube.
Kuehn says he's not all that particular about whether interest in his studio is coming from an agency, a brand, a broadcast promo shop, a director – all are welcome. "What they have in common is that they're looking for a track, and when they can't find it, they give me a shout," he says. "When they finally figure out that they need original music, they call."
Which is not to say Peligro doesn't work on synch or licensed projects, too; either suits him. "It's all good," he says. "I just like being in this position of helping people." But clearly, he believes an original track can often do just as much work as a licensed track, if not more so, and has the advantage of being owned by the brand.
"Part of my job is to educate people towards something that's unique and that can give their work a voice," he offers. "Yeah, it can mean going an extra step, but this way we can create something that works perfectly for the spot or the campaign." The key is to find the essence of the licensed tracks they're drawn to, then express it in an original way: "That's where these magical things happen, and the music finds its place within the piece."
This applies whether working in commercials or longer form features, docs, branded content or series. He's done lots of everything, and has the awards to show for it. "Agents of Change," a documentary about the launch of UFC 25 years ago, won a Sports Emmy, and his most recent Verizon docu-style spot from the 2019 Super Bowl was a three-time Cannes Lions winner.
And he's just back from Sundance, where a doc series he scored, "Awkward Family Photos," screened in the indie episodic division. He's currently scoring a film that'll screen at SXSW, "Radical Love," which is executive produced by Roger Waters and produced by Caroline Waterlow, who won an Oscar for "OJ: Made in America."
Peligro's work spans all styles and genres, although it's not uncommon to find many pieces driven by beautiful piano scores. His "Don't Fake It" female empowerment spot for Astroglide is a great example – as a woman talks about how other women just aren't going to fake it anymore, whether in the bedroom or the boardroom, a haunting piano solo slowly builds to – what else? – a subtle crescendo.
Piano factors prominently into work for Ancestry.com and Audible, too, although Kuehn's just as capable of peeling the paint off the walls with blazing rock tracks, heard in spots for VW and Oakley. Or maybe you want something cinematic? He's got that too, in work for Honda and Mini.
Kuehn's especially proud of his work on a series of long-form videos (each one is roughly seven minutes) produced for LG's high-end Signature Kitchen Suites line of kitchen appliances. Kuehn convinced the creative team at Amusement Park that each long form piece should use just one piece of music, and the accompanying composition ties the films together with an understated and elegant sonic thread.

So how do his years on the road – and the continued role he plays on the tour scene with his band – influence his work for agencies and brands? Kuehn says it's at the heart of what he loves about his work, and what appeals to him about punk rock: "There's a real DIY ethic to that music, and that's what I like. I'm a down and dirty guy who likes to get stuff done. I've held a lot of roles in this business, from producing albums to playing on sessions, and I have a wealth of experience. That lets me calmly come to the table and help make the work better, without a personal agenda or a lot of ego."
And he understands the oddly important, almost contradiction-in-terms role that music plays in the creative process. Often coming in at the tail end the process, it's where you can make one final impact before something goes out the door. "I'm the last writer on the project," Kuehn likes to say. "I'm the last chance to shape this piece of film. And I know that's important. To me, it's a big responsibility."
Spoken like a true punk.