Simian was on hand for all the events at AICP Week in New York, and we took the opportunity to invite a number of Simian users from around the country to take part in a candid and freewheeling roundtable about the current state of the post production industry.
Graciously hosted by The Post Crew's Nancy Jacobsen, Executive Producer/Partner, and Stephanie Norris, Executive Producer, the roundtable included a mix of people from across the post production spectrum. On hand to share their insights and opinions were a quartet of executive producers: Ashley Monaghan of the animation and VFX studio Hornet; Jody Peters of Northern Lights; Lisa Sadek of the bicoastal editorial house Uppercut; and Ron Rendon of Austin's TBD Post, along with Creative Producer Adrian Womack of the bicoastal music and sound studio Racket Club.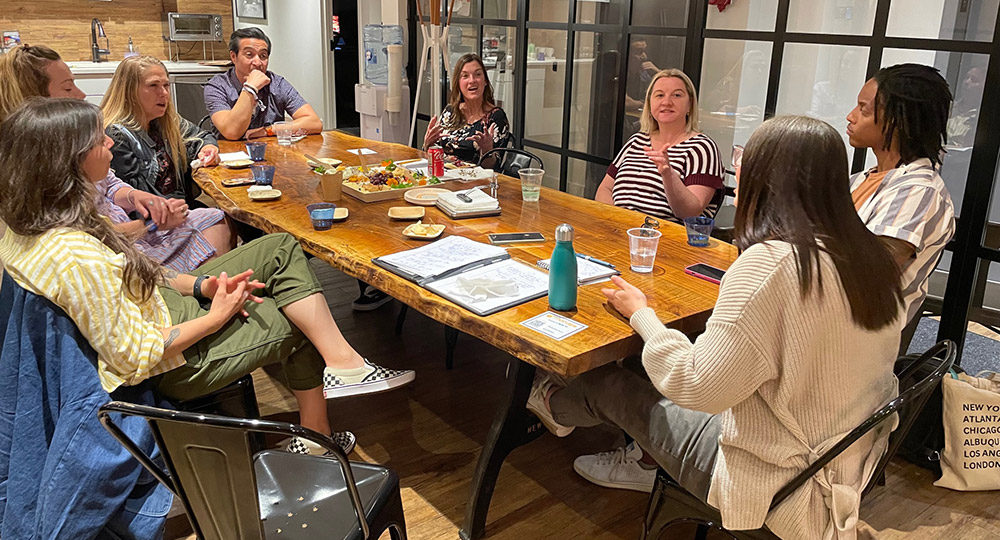 The topics ranged from how they weathered the pandemic to the value of independent sales reps, with lots of viewpoints and observations shared in between. Most were delighted to be back at AICP Week, and excited by the opportunity to hang with their peers in a real life setting.
That said, they've all been dealing with what could at best be called a challenging set of circumstances that are unique to the post production industry as they face fixed costs for facilities and office space, a new hybrid workflow with their artists and staff and clients that are still reluctant to come in for in-person sessions.

"Right now, with the climate of the industry, all we can do is lean on the relationships that we've got," said one participant. "That's what got us through the pandemic." Building new ones is another thing, however. "It's tough. The industry's in a really weird state. You've got to really sell your value, and get them to understand your value."
"We all do the same thing," added another. "For us, it's about following the talent. It's really their best option for getting the best work."
The need to start making connections again – IRL ones, not virtual – is top of mind. "People need to come in and see our spaces," said one EP, pointing out the cozy vibe of the newly opened Post Crew office. "Everyone is reworking what their offering is – it's really a mix of talent and services. The reason clients are coming back to us is because we are causing them the least anxiety in this situation."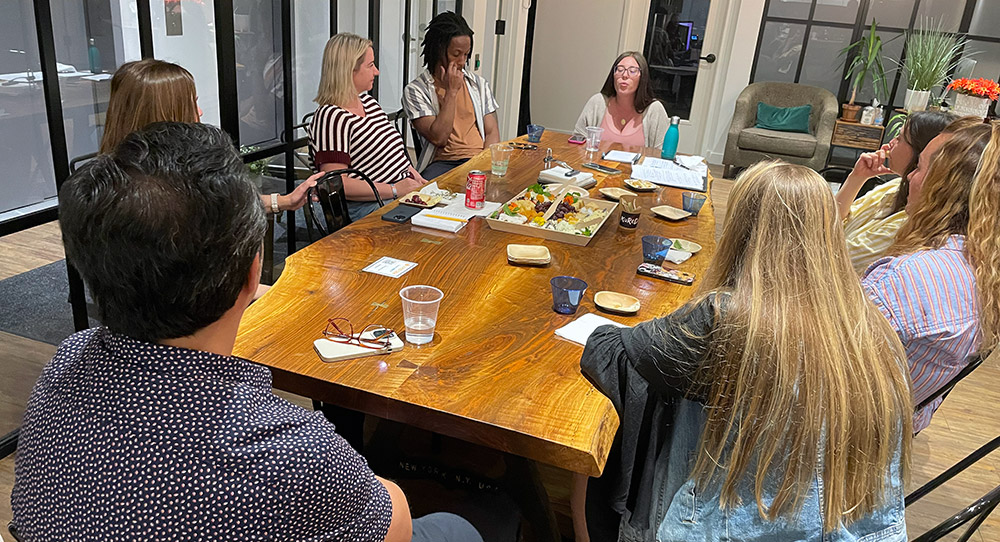 And that's understandable, when you consider the pressure agency people are under right now, another EP pointed out. Often overworked and understaffed, production departments are asking their production and post vendors to do more with less, and the EPs at the roundtable know what that's like.
"Even when clients come in for sessions, getting them to focus is hard," voiced one EP. "They're so distracted, and pulled in so many directions, spending half of their time leaving the room to take a call. As a result, the sessions run longer, 'cause it's just calls, calls, calls."
The takeaway is that with all the changes and evolutions brought about by the pandemic, the key to staying relevant is to focus on the personal side of the equation. And it's seen as equally important for the post company's own people to have more opportunities to interact directly with their counterparts on the agency and client sides, too. "A lot of people in post are sort of introverts," said one EP. "We're cool nerds. I tell our people that they need to meet directors and creatives. The most you do, and the more you work with them, the more they'll advocate for you." Added another, "People remember those who contributed to making their work better."
Sales reps can help, some said, particularly now, when the value of breaking in with new agency or client teams is at a premium. "Our reps are always talking with our editors and artists, pulling names out of them of the people they work with, or who they've had good experiences with in the past," said one participant. "Ever since the pandemic, I've felt having strong independent reps has become absolutely crucial," added another. "You've got to get those leads, and that's where they come in."
As in-house competition continues to heat up, EPs are exploring every possible way to get their message out there and stay top of mind. A robust social media presence is seen as essential, with an emphasis on Instagram and LinkedIn, most said. "But if you think you're going to get business out of being on TikTok, it's not going to happen," was one comment.
The conversation kept coming back to managing, nurturing and maintaining relationships, as developments like the introduction of generative AI into the post process loom. Several EPs noted the migration of agency producers to the client side, particularly with major tech brands, and the value that can present. "Keeping up with them is important, but it's a marathon," observed one EP, "not a sprint."
And with that, everyone had to run to another AICP Week event!
SHARE ARTICLE
MORE FROM THE SIMIAN BLOG