Problem: Getting volumes of data uploaded quickly and efficiently.
Jay Brooks, our CTO, frequently addresses ways in which Simian can help solve problems that our users face on a daily basis. Here's one of his regular blog columns, which we like to call 'The Problem-solver.'
The first step in media sharing with Simian is getting your media into Simian. Our goal is to make this as painless as possible, and our updated project uploader does just that. We've added the ability to drag/drop and upload folders in both the project web uploader and the latest version of the Simian Real Time Video Encoder (RTVE). Now you can simply drag your folder structure into the project uploader and your folder structure will be recreated and your files uploaded.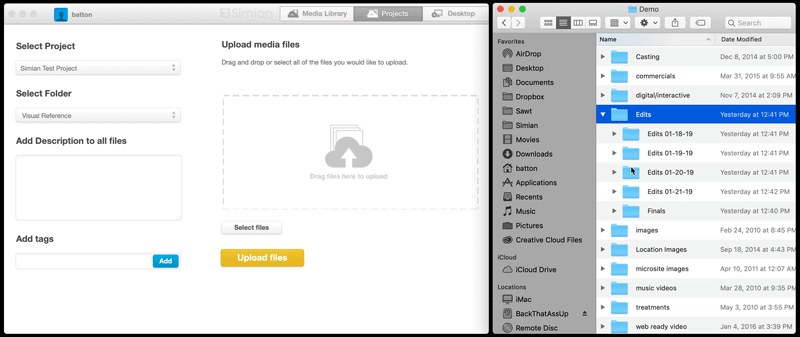 Folder Uploads now makes it easy to upload location, casting and other file structures directly to your project, saving valuable time.
The folder upload addition in the RTVE makes the process of uploading videos and edits even more efficient. As always, Simian highly recommends using the RTVE for video uploading — it's faster and creates web optimized video you don't have to think about. We hide the complexity of video encoding and make it easy for anyone to upload files and produce high-quality video that will playback on all devices. For large files, the RTVE is the best way to get your video into Simian and to your customer.
Problem solved!
SHARE ARTICLE
MORE FROM THE SIMIAN BLOG