SF Heads of Production Talk Hot Button Issues at the Simian Agency Roundtable
Posted on Sept 3, 2019
Simian held yet another in our ongoing series of Agency Heads of Production Roundtables recently, this time in San Francisco, and the topics of discussion were similar to the issues discussed at our May 2019 Roundtable in Los Angeles. There, close to a dozen agency production leaders gathered at the production company A Common Thread to talk about a wide range of topics, from in-housing to juggling digital assignments with more traditional media to the need to squeeze more out of every dollar in their budget.

In San Francisco, our group met at the offices of Venables, Bell & Partners, where we were graciously hosted by Hilary Coate, Head of Integrated Production. We were joined by production directors from such agencies as 215 McCann, R/GA, GS&P, M/H VCCP and Sister, the production arm of Mekanism.

A major topic of discussion, in both L.A. and in San Francisco, dealt with production talent – where it's coming from, how to nurture and mentor junior producers, and how to keep 'em on the agency side now that they're being pursued by brands as well as the big tech companies. One HoP, for example, has instituted a program to have EPs take junior producers under their wings.

A number of people expressed the view that today's junior producer represents a new breed of talent, one that marches more to the beat of their own drummer. They lauded young, digitally-savvy producers as "scrappy" types who might benefit from a better understanding of the layered quality typical in client/ad agency relationships. Almost all said the need for mentoring was strong, and that finding ways to provide such guidance in today's environment was a challenge.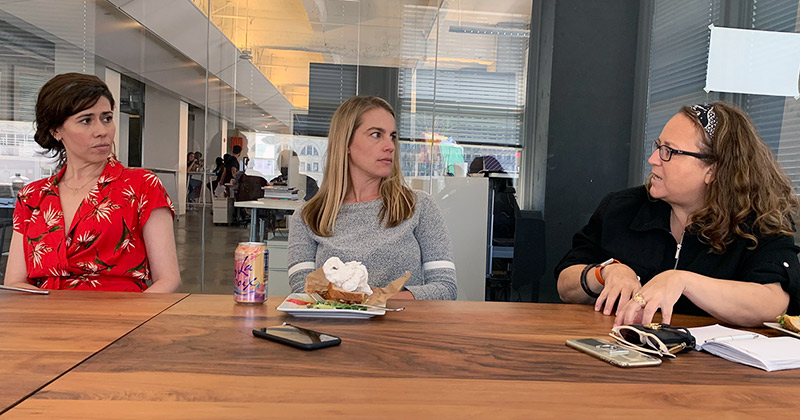 As the in-house movement on the client side grows – both at the consumer brands and among the tech platforms – agency production heads say they're working to mesh their own in-house production and post units with clients' newly-established production departments, and that getting involved early on is the key to a smooth collaboration.

Also on the agenda was a discussion of how, in today's fragmented media world, production can partner with media people and with strategists to advise clients as to the most cost-effective ways to reach their target consumers.

And of course, lurking over everything is the explosion in deliverables, coupled with a tighter budget and the need to liaise with new players. The result, many suggested, is the risk of even greater friction and stress in a profession where the two are never far away.

Interested in having Simian host an agency roundtable in your city? If so, drop us a note at info@gosimian.com, and we'll see if we can't make it work. Coming up later this year will be our third New York Heads of Production Roundtable, followed by our very first event in Chicago.
We host these events to give agency production execs an opportunity to connect and share viewpoints, tips, war stories and insights – all with the goal of helping them do their jobs smarter and more efficiently. We'll also be reaching out to our growing HoP network for occasional insights into how to make our video sharing and collaboration tools even more valuable and effective for Simian users and their partners across the client – agency – production & post supply chain.